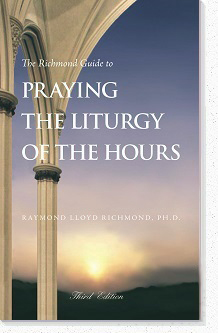 New Third Edition with corrections and added material

Our Lord Jesus Christ told us to pray constantly (Luke 18:1). The Liturgy of the Hours provides one way to fulfill this obligation in a structured format. Moreover, the mandate of the Liturgy of the Hours applies not only to all bishops and priests, other sacred ministers, and the religious, but also to the laity. But, for the laity especially, without clear and unambiguous instructions, praying the Liturgy of the Hours can be confusing and difficult.
This book has organized all the information you will need to learn to pray the Liturgy of the Hours using the four-volume set, step-by-step, as simply as possible.
(The single-volume Christian Prayer follows the same basic format, but with simplifications.)
This new third edition contains comprehensive instructions for praying the Office of Readings, Morning Prayer, Daytime Prayer, Evening Prayer, and Night Prayer on ordinary weekdays and Sundays, as well as on Memorials, Feasts, and Solemnities not on a Sunday. Contents include:

| | |
| --- | --- |
| • | Detailed information about how celebrations differ in ordinary time, in Advent, in the Christmas season, and in the Easter season. |
| • | Detailed graphic charts for all of the hours of the celebrations as they vary by liturgical season. |
| • | "Walk-through" examples to lead you step-by-step through the celebration of a Memorial, a Feast, a Solemnity not on a Sunday, a Sunday in Advent, and a weekday in the Christmas season. |
Paperback book

International Orders:
UK and some European customers will avoid customs delays and save on shipping costs by ordering locally through
Amazon.co.uk
Amazon.de
Amazon.fr
Amazon.es
Amazon.it

5" x 8"
172 pages
ISBN-13: 978-1523738809

Order from Amazon.com

The Richmond Guide to Praying the Liturgy of the Hours

$12.80