I am confused about Saint Faustina. I am reading her book . . . and I am confused about the Sacred Heart of Jesus. I really thought it was Saint Margaret Mary that Jesus asked to bring the image of His heart to us. But Saint Faustina's book makes me think He gave it to her. Were they both given the image? Did they live at the same time? I don't understand.

od's infinite love is impossible for anyone to understand. Even angels cannot understand it fully. So when we humans try to speak about God's love, we have to use approximations, speaking in metaphors and symbols.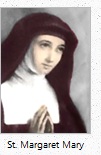 Saint Margaret Mary, who lived from 1647 to 1690, received the revelations about the Sacred Heart of Jesus. Saint Faustina, who lived from 1905 to 1938, received the revelations about The Divine Mercy.

The images associated with these revelations—the Sacred Heart of Jesus and The Divine Mercy— point to the ultimate mystery of Christianity: that to save us from death to sin, God emptied Himself in love for us through the Incarnation, Passion, and Death of His only Son and continues to empty Himself into our lives in the Church through the Holy Spirit.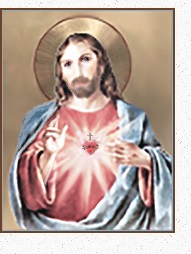 In the image of the Sacred Heart of Jesus we see most clearly one aspect of love: the refusal to hate. In spite of all the wounds we have inflicted on Him, Christ continues to love us anyway. No matter how much we treat Him with indifference, ingratitude, and contempt, He does not retaliate with anger. No matter how much we abuse His love for us, He continues to seek our ultimate good, our freedom from slavery to sin.

The Desire for Mercy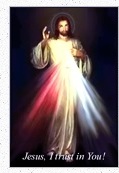 In the image of The Divine Mercy we see most clearly a second aspect of love: the desire for mercy rather than punishment. Just before the outbreak of WWII, Christ gave this image to the modern world, a world growing increasingly cold in faith and a world increasingly lost to cruelty and perversion. And yet, in spite of all the sins we commit, Christ reminds us that even the most wretched of sinners deserves His mercy. No matter how brutally we treat others, He wants us to repent and to throw ourselves into His mercy, rather than suffer the inevitable judgment that awaits those who refuse to repent.
I do not want to punish aching mankind, but I desire to heal it, pressing it to My Merciful Heart. I use punishment when they themselves force me to do so; my hand is reluctant to take hold of the sword of Justice. Before the Day of Justice I am sending the Day of Mercy. . . .

I cannot punish even the greatest sinner if he makes an appeal to My compassion, but on the contrary, I justify him in My unfathomable and inscrutable mercy. . . .

Tell sinners that no one shall escape My hand; if they run away from My Merciful Heart, they will fall into My Just Hands.

—told to Saint Faustina by Jesus,
Diary (1588, 1146, 1728)
Therefore, both images—the Sacred Heart of Jesus and The Divine Mercy—are equally true for us today. Neither image overshadows the other. In a world decaying more and more into corruption, both images speak to us of our only hope: repentance and transformation of our hearts through an acceptance of divine love.