Revised Second Edition

PARENTS SEE THEMSELVES AS DEVOUT CATHOLICS
BUT WHAT DO THEIR CHILDREN SEE?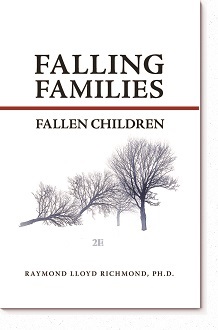 Do children see their mothers and fathers living in contemplative love for God with a faithful emotional awareness of divine presence and engaged in an all-out battle with the evil of the world?
More often than not children don't see living faith. They don't see any protection from evil. They don't see genuine, fruitful devotion. They don't see genuine love for God.
Instead, they see external acts of devotion as insincere because they see all the other things their parents do that contradict the true faith.
Thus parents lose credibility—and when parents lose credibility, children can become cynical and angry and turn to the social world around them for identity and acceptance. They become children who have more concern for social acceptance than for loving God.
They are fallen children. Let's bring them back.
CONTENTS
Preface

Part One: The Psychological Background
Background | Family Systems | Marriage | Divorce | The Role of a Father | Anger | Domestic Violence | Child Abuse | Denial and Lies | Lust and Violence | Shame and Guilt | Disobedience | A Lesson from Dog Training | Physical Affection | Educating Children | Discipline: An Overview | Punishment | Shaping Positive Behavior | Growth | Responsibility | Boundaries | How to Say "No" to a Child | The Loss of Innocence | Helping Children Heal

Part Two: Questions and Answers
When Children Fall | Helping a Child | Cultural Subversion | Too Busy? | Parental Love for a Child | Breaking a Cycle of Hate | Botched | Honoring Your Parents | Anger at Parents | Unconscious Anger | Heart Attack | Blind to Your Own Anger | Sending Yourself to Hell | Paralyzed in a Dysfunctional Family | Danger to Society? | Procrastination | Undoing Past Sins | Angry Trad | Revenge Factor | Keeping the Peace | Scruples | Anger Without Sin | Modesty | Tattoos | Discovering Masturbation | Lust and Marriage | Angry Baptist | A Nightmare Marriage | BPD Spouse | Old Love | The Yearning for Union | Why Marriage? | Desperate for a Child | Career or Family?

Appendix I: Catholic Compassion
Compassion | Chastity | Responsibility | Serving the Self | Disobeying God | Identity | To Die in All Things | The Proof

Appendix II: Borderline Personality Disorder
Introduction | BPD Symptoms | The Rage from Feeling Abandoned | The Rage Continues: Pushing Away | "It's Your Fault!" | The Trap of Seeking the Acceptance of Others | To Heal the Rage | Love: The Imitation of Christ | The Mystical Price of Love | The Hard Work of Christian Prayer

Appendix III: Healing the Lack of a Father

Appendix IV: Gratitude

Appendix V: Deliverance

Appendix VI: A Love Letter

Notes

Index
E-book

Paperback book

In process.


5.25" x 8"
468 pages
ISBN-13: 978-1981123681

Order from Amazon.com

$22.79
Falling Families, Fallen Children


International Orders:
UK and some European customers will avoid customs delays and save on shipping costs by ordering locally through
Amazon.co.uk
Amazon.de
Amazon.fr
Amazon.es
Amazon.it