How do you get well if you don't even know you are sick?

n The Living Flame of Love Saint John of the Cross says that "it is impossible to perceive one's darknesses without the divine light focusing on them" (1.22).
This means, psychologically, that when you're spiritually "sick" you cannot see your sickness unless it is illuminated by a truth from outside yourself.
In the spiritual sense, it is important to seek the way of spiritual purgation (as described by Saint John of the Cross in The Ascent of Mount Carmel) purely on faith before the divine light has any chance to illuminate your soul and show you how blind you really are.
But what if faith doesn't motivate you? What then?
Well, in the colloquial language of Alcoholics Anonymous, you must hit bottom. Preferably, you will not hit with enough force to kill you, but you should hit with sufficient impact to crack open your heart and let in a ray of divine light to illuminate your darkness.
Technically speaking, this hitting bottom is an encounter with the unconscious. If you hit hard enough, you might get arrested, or end up in prison, or find yourself in hospital. Or, if you're fortunate, you might catch on to the problem before it gets too severe. You might only lose your job or suffer a marital separation.
The problem is really a problem with repetition; that is, because some unconscious conflict is too fearful for you to speak about it openly and consciously, it keeps getting played out in self-destructive behavior until eventually you're forced to see it.
So once you do catch on, you have only one choice: face up to the fear. And I'll be honest here—facing the fear is a hard thing to do. But if you do it with trust in God and prayer you have a better chance than most people have. After all, why else are hospitals, prisons, and divorce courts such big businesses?

Healing
Psychological Healing in the Catholic Mystic Tradition


by Raymond Lloyd Richmond, Ph.D.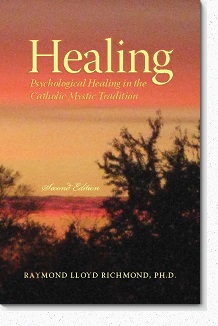 A treasure of a resource for psychological and spiritual healing. Information gathered from my websites is now available at your fingertips in book form with a comprehensive index.

Psychological defenses help to protect us from emotional injury, but if you cling to the defense mechanisms that were created in your childhood and carry them on into adulthood—as most everyone does unconsciously—your quest for spiritual healing will be thwarted by overwhelming resentments and conflicts.

Still, God has been trying to show you that there is more to life than resentment and conflict, something so beautiful and desirable that only one thing can resist its pull: hate.

So now, and in every moment until you die, you will have a profound choice between your enslavement to old defenses and the beauty of God. That decision has to come from you. You will go where you desire.