Through the Eyes of Jesus
Jesus †
†
† 9-21-97

e joined the road to Jerusalem, and My friends all seemed to be happy thinking that soon we would reach the holy city and the Festival. Philip, who was by Me now asked, "Will there be many more stops before we get to Jerusalem?"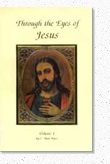 "Only those that are needed," I replied.
Philip was quiet for a moment, then said, "Those Syrians were very frightening."
"My friend, try never to be frightened; keep calm and secure in the knowledge that I am with you always, and I will protect you from everything that may destroy you. It is when you have fear in your heart that evil can hurt you, but when you have trust in Me, and faith in My love, then evil cannot harm you," I said, reassuringly.
"Lord, You certainly were not afraid, were You?" remarked Andrew, who was by Me also.
"There was nothing to fear and there never is, if you trust in God," I replied. "How is James now?" I asked, already knowing the answer.
"The pain is gone," replied Andrew.
"There is not a mark on him; it is as if nothing had ever happened," Philip said in amazement. I smiled as we continued to walk. "Lord," it was Philip again. "Lord, why do other peoples fight for Rome rather than against it? It doesn't make sense. I mean Rome suppresses the Syrians also, so why do they fight for Rome?"
"Sometimes people only think of themselves. God, their country, their people, and even their family, at times, mean little. If they can gain power or influence, wealth or fame, food to eat when they are hungry, money when they are poor, then many will sacrifice their very souls. Often, they do not know they are doing so because self has blinded them. Often, they believe how strong and brave they are in what they do, but they are the truly weak.
"The strong are those who stand against wrong no matter what it costs, no matter how tempting it may be. Strength of heart is a gift of God that only needs humble acceptance to achieve. With strength of heart, even the starving, the dying, will not give in to evil, to what is wrong. This truly is strength, but in the world today is often seen only as weakness," I explained, thinking of the strength the martyrs would show in the future ... but how often they were mocked and thought of as foolish and weak, how easily people are blinded, and how easily that blindness leads to hatred, a hatred that can lead to hell.
Phillip began to discuss with Andrew what I had just said, and as I listened to their words, My mind slipped into thoughts of how many in the future would reflect upon My words, and how some of these would also have a blindness that only let them see what they wanted to see in My words ... how the things I spoke of that were too difficult for them to accept, as it would mean change in their lives, were often ignored. Then, how these same people, at times, would spread their misunderstanding of My word to others, and in doing so, spread the wrongs that they accepted. With others accepting what they said, their wrongs no longer seemed wrong; now they seemed right ... blindness everywhere in the world and everywhere in life, a blindness that can only be lifted in Me.
—C. Alan Ames
Through the Eyes of Jesus,
Volume 3, pp. 87-88
Used with permission:
"
Complete segments, according to date, may be reproduced
if done so in full, and proper credits are given."
© Carver Alan Ames – 1996